Welcome to End of the Trail Rescue
We have separated End of the Trail Rescue from our parent nonprofit Dream Catcher Therapy Center, Inc. in order to form a separate non-profit that will allow us to focus our entire efforts on horse rescue.
Our Mission
End of the Trail offers horses a second chance to be cared for, nurtured and valued.  We provide shelter, quality food and humane treatment to horses that have been abused, neglected or unwanted. We also educate the community about animal abuse and how or where to report these situations.
Accomplishing our goals requires diverse activities such as:
Public education and outreach

Horse sanctuary and protection

Medical care and rehabilitation

Equine therapy programs

Pairing horses with humans to foster healing and good mental health
We are in the process of expanding our services and capabilities to meet the growing needs in our area.  We want to ensure that we provide for horses and human needs for the foreseeable future and with your help, we can build an amazing legacy for horses and people in need.
MARK YOUR CALENDARS!!!!!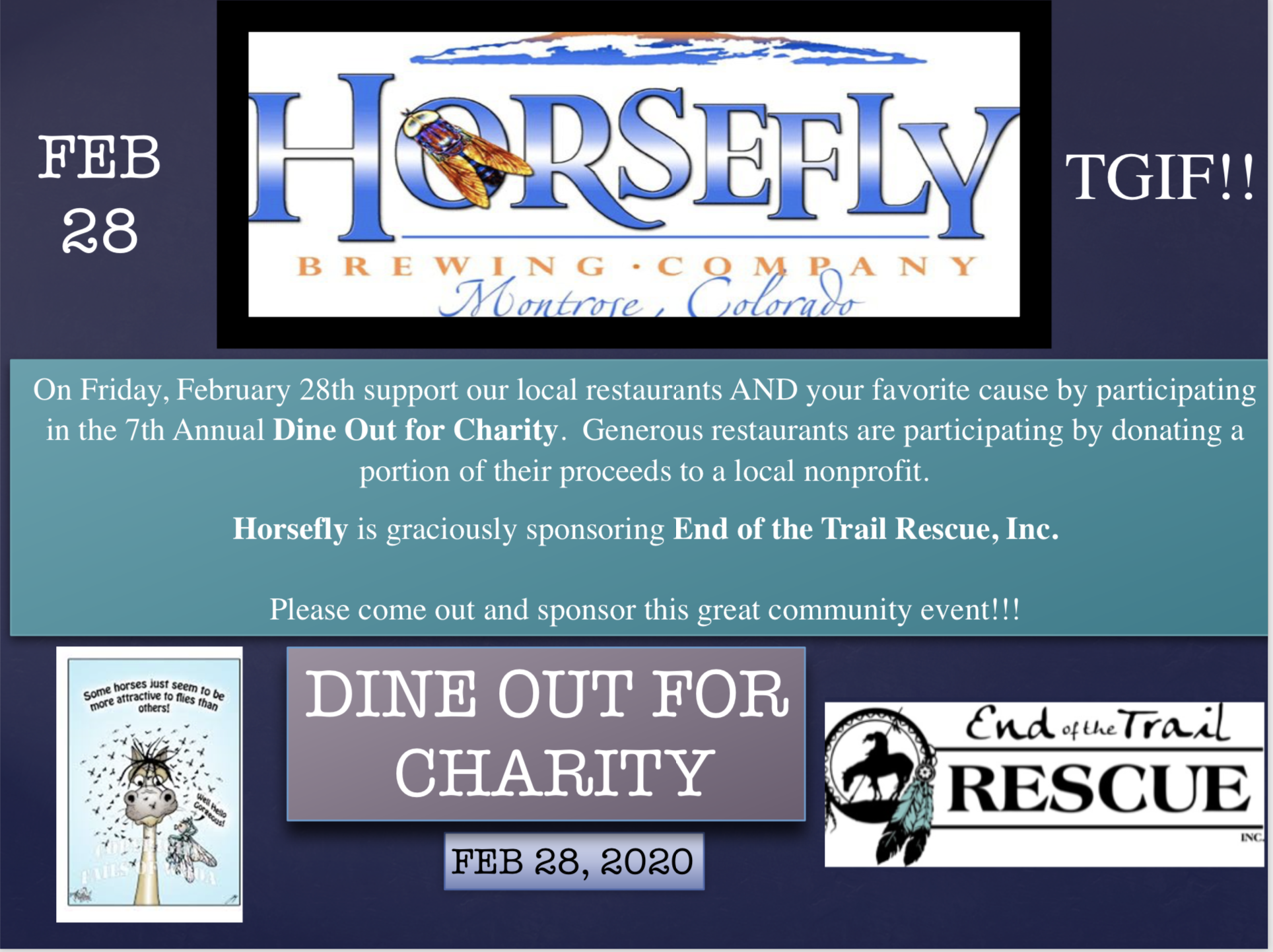 Dine Out For Charity!!!
Do you enjoy a nice meal out with great food, craft beer and a fun atmosphere??
Friday, February 28th - all day long - come to the Horsefly Brewing Company in Montrose, CO and a portion of their proceeds will benefit End of the Trail Rescue, Inc!!!
Through the generosity of Horsefly and patrons on Feb 28th we will be able to help more horses here at the Ranch.
Please come out and sponsor this great community event!!!
NEW!!!   DONOR MEMBER CLUB PROGRAM!!!
"I'm writing to ask for your help, support and collaboration in salvaging hearts, body & spirit." Carol McBride
We have a new Donor Member Club program and we are asking for your help. Please take the time to read the letter below from Carol McBride - she is also a sponsor for our wonderful boy Copper.
OUR WISH LIST
As we look into 2020 we hope you will consider gifting to help us with additional supplies, training and therapy programs.
- Adding a covered arena for training and therapy year round
and lighting for the covered arena
-A Hay Shed
- Gravel
- 7x10 utility trailer
-Tractor with a backhoe
- 12 ft aluminum panels
- Metal siding & Metal Roof material
- Post hole digger
- Panels to enlarge arena for additional training and therapy programs
HORSE SUPPLIES
- Plastic Colored Feed Tubs   www.tubtrubs.com
-Cotton Vet Wrap
- Vet Wrap, non-stick
- Scarlet Oil
- Blue Coat Spray
- Vetericyn Spray
-Horse feed and hay
---
How You Can Help
Report Abuse
If you suspect abuse or neglect is taking place, contact us. We will contact law enforcement officials and investigate the situation.
Make A Donation
Your tax-deductible contribution helps care for and rehabilitate horses in need.
Sponsor a Horse
You can also sponsor a horse and see how your donations are making a difference in one animal's life.
Foster or Adopt A Horse
We have horses that are looking for caringindividuals to either foster or adopt them. Offer a horse a second chance at life!
Visit our Center
We would love to show you around the ranch. Call today and arrange a visit!
---
To Give Now Click On any of the Donation Options On The Right.
WATCH THE VIDEO!!!