Who We Are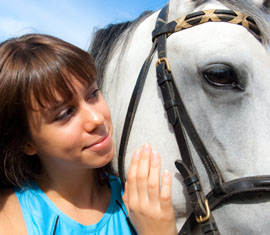 We have separated End of the Trail Rescue from our parent nonprofit Dream Catcher Therapy Center, Inc. in order to form a separate non-profit that will allow us to focus our entire efforts on horse rescue.
We will continue to share our facilities and our over 40 wonderful horses that we shelter with Dream Catcher Therapy.
We are currently receiving more and more calls locally from people wanting to either give up their horse or calls reporting neglect.
Horse programs are at an all-time low in our area and each year more and more horses are shipped to slaughter from this area!   In an effort to prevent horses from going to slaughter we are going to expand our efforts dramatically.
Our Values
We will be building a new facility which will give us additional space to house horses as well as an indoor riding arena for training.  We will offer world class training for unmanageable horses and for the owners of those horses at a very fair and reasonable price. We hope to offer several riding clinics and educational courses throughout the year and eventually introduce riding lessons for kids and adults.  We also plan to use our rescue and training programs to offer cutting edge state of the art therapy to veterans recovering from the scars of battle using untrained horses.  There are so many benefits that come from working with horses and we believe the way to save more horses is to get more people to experience the horse in a positive, empowering, uplifting environment.
We need your help in order to accomplish these goals.  You tax-deductible contribution can help purchase, land, equipment, or building materials.  You can sponsor one of our many training programs so that more unmanageable horses can be trained and saved.  You can sponsor one of our rescued horses, or help to purchase some of the surgeries or treatments some of these horses need to recover from their previous lives.  You can contribute to our Hay Fund which helps to feed the horses at our rescue and as emergency feed to horses in need all over our state.   You can volunteer as a board member, an administrative assistant, a marketer or to work in our barn with the horses.
We encourage you to call and set up a time to come out and visit us.  We are certain that you will want to get involved once you see how our horses help empower people to feel their best again.