Welcome to End of the Trail Rescue
We have separated End of the Trail Rescue from our parent nonprofit Dream Catcher Therapy Center, Inc. in order to form a separate non-profit that will allow us to focus our entire efforts on horse rescue.
Our Mission
End of the Trail offers horses a second chance to be cared for, nurtured and valued.  We provide shelter, quality food and humane treatment to horses that have been abused, neglected or unwanted. We also educate the community about animal abuse and how or where to report these situations.
Accomplishing our goals requires diverse activities such as:
Public education and outreach

Horse sanctuary and protection

Medical care and rehabilitation

Equine therapy programs

Pairing horses with humans to foster healing and good mental health
We are in the process of expanding our services and capabilities to meet the growing needs in our area.  We want to ensure that we provide for horses and human needs for the foreseeable future and with your help, we can build an amazing legacy for horses and people in need.
Emergency Funding To Help our Community
As these difficult and uncertain times persist with the COVID-19 situation we want to check in with all our supporters and horse lovers. We hope you are holding up with all the major changes in your lives.
For most of us our worlds have been turned upside down with the pandemic and we want you all to know we care about each and every one of you. We have heavy hearts with everything going on in our communities and the world. We are filled with gratitude for the numbers of you that have asked how we are doing and what you can do to help during these difficult times.
We want to assure all of you that we are fine at End of the Trail Rescue! We made sure that we had plenty of hay, grain and veterinary supplies for all our horses as the COVID-19 situation began to escalate weeks ago.
What worries us is the hard reality that in times like these we will see an increase in abandoned and unwanted horses as many are facing financial challenges. We want to be able to provide hay, feed and veterinary services to those in our communities that have lost income and are unable to care for their horses - we do not want people to be put in the horrible position of taking their horses to auction and slaughter lots or abandoning them.
We are putting out a temporary fund raising plea.
Our first goal is to provide support to owners so that they can keep their horses at their current location by providing hay, feed and veterinary care, as needed. Our second goal is to make room to house up to 12 additional horses here at the ranch on a temporary basis. We are committed to making this extra effort because we do not want these horses to end up at the sale barn, starved, or heading to slaughter.
If you are in a position to help - please consider a donation today, tomorrow or next week.
We Thank You in advance.
WE ARE OPEN!!!
With the current coronavirus (COVID-19) situation, we want to reassure our community that we are committed to the safety and well being of our neighbors, volunteers and employees here at End of the Trail Rescue & Dream Catcher Therapy Center.
While our communities take a pause to slow the spread of COVID-19, rest assured we are busy with the business of taking care of our many equine friends here at the Ranch.
We are open for business - as our wide, open spaces in the fresh air are a healthy place to be and we encourage our volunteers to continue coming to the Ranch to continue with their work. We have a very healing environment here at the Ranch.
Visitors are welcome as well. We ask that anyone coming to the Ranch upon arriving wash your hands with soap and water at our facilities, and upon leaving wash your hands again with soap and water. We also ask that if you are not feeling well, please stay home and not come out to the Ranch.
We have postponed the Equine Veterinary Seminar that was scheduled for April 11 - the Montrose County Fairgrounds are closed and postponing events for the future. We will update as we know more.
We will be doing our deep Spring cleaning here at the Ranch for the next several weeks - scrubbing, sanitizing and disinfecting all our work spaces and stalls.
We have plenty of hay and grain for our horses and they will continue to receive the utmost care as always.
If you happen to have any hand sanitizer that could be donated we would greatly appreciate your kindness!
POSTPONED!!!
Due to the COVID-19 situation, the Montrose County Fairgrounds are closed and postponing events.  We will keep you posted as we get updates.
Join Us for an Informative Day!!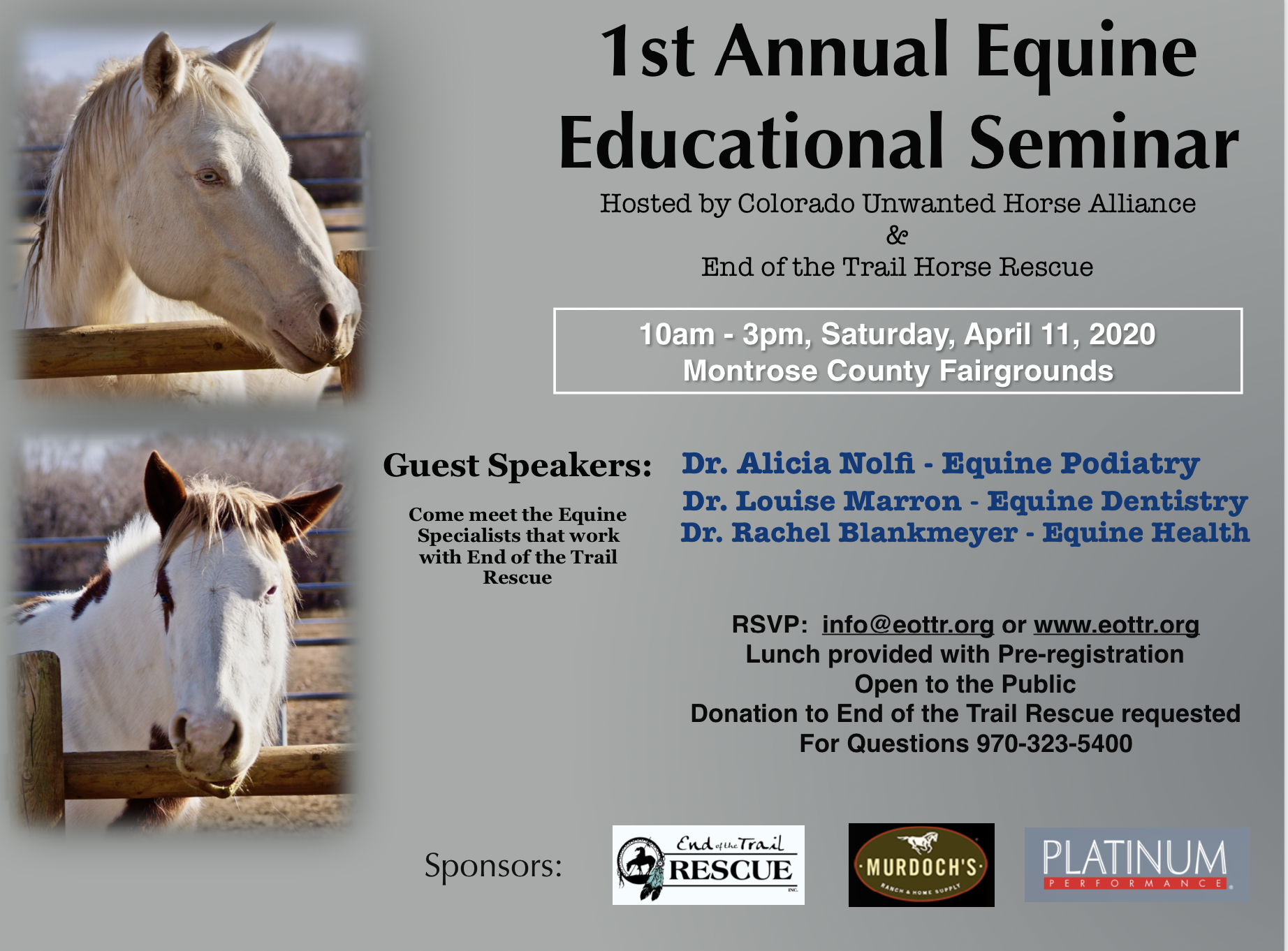 OUR WISH LIST
As we look into 2020 we hope you will consider gifting to help us with additional supplies, training and therapy programs.
- Adding a covered arena for training and therapy year round
and lighting for the covered arena
-A Hay Shed
- Gravel
- 7x10 utility trailer
-Tractor with a backhoe
- 12 ft aluminum panels
- Metal siding & Metal Roof material
- Post hole digger
- Panels to enlarge arena for additional training and therapy programs
HORSE SUPPLIES
- Plastic Colored Feed Tubs   www.tubtrubs.com
-Cotton Vet Wrap
- Vet Wrap, non-stick
- Scarlet Oil
- Blue Coat Spray
- Vetericyn Spray
-Horse feed and hay
---
How You Can Help
Report Abuse
If you suspect abuse or neglect is taking place, contact us. We will contact law enforcement officials and investigate the situation.
Make A Donation
Your tax-deductible contribution helps care for and rehabilitate horses in need.
Sponsor a Horse
You can also sponsor a horse and see how your donations are making a difference in one animal's life.
Foster or Adopt A Horse
We have horses that are looking for caringindividuals to either foster or adopt them. Offer a horse a second chance at life!
Visit our Center
We would love to show you around the ranch. Call today and arrange a visit!
---
To Give Now Click On any of the Donation Options On The Right.
WATCH THE VIDEO!!!