Please make a donation to our Hay Fund
Our center offers sanctuary and rehabilitation to abused, neglected and unwanted horses.  These horses come to us scared, starved and suffering.  Your donation will make it possible for these horses to heal.
A donation of just $10.00 will purchase one bale of hay and will feed one rescue horse for three days.  We will need to purchase 3,000 bales, a cost of $30,000 to feed all of our horses for the next year.
We will need to purchase Senior Grain at $21 a bag.  A pallet of grain (40 bags) will feed our senior horses for 2 weeks.  We use two pallets a month (80 bags) to take care of our wonderful senior horses.  This is a cost of $20,000 a year.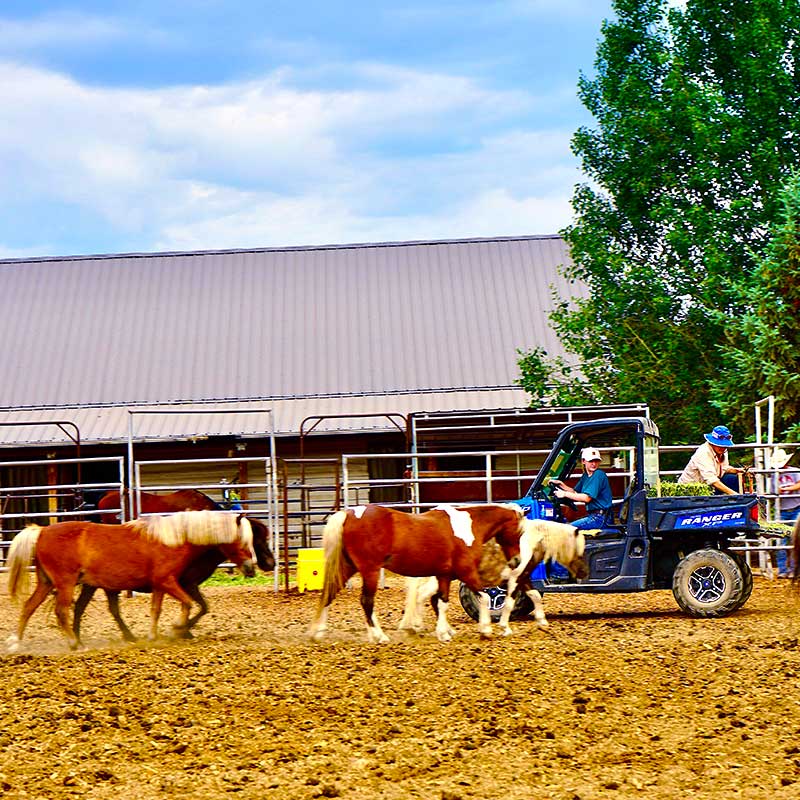 Want to be More Involved with EOTTR?  Want to make a difference?
Board Of Directors Recruitment
End of the Trail Rescue's all-volunteer Board of Directors is looking to add up to three new members! This is a unique opportunity to join a dedicated group of individuals that help guide EOTTR.   We work with the changes and challenges that come with equine rescue and welcome the opportunities of expanding our capacity for horses in need.  We will have many or our meetings via Zoom and by phone – supporters that live outside of Colorado are welcome to apply and help support EOTTR.  Do you have experience with non-profits?  We are looking for board members from across the United States.
These Board positions are crucial to the growth and promotion of our Horse Rescue and Therapy Programs.  We need your expertise, talent and help to keep our Non Profit growing and running smoothly.
We know there are excellent candidates in our caring, hard working and talented community of supporters. If you are  interested in serving on the EOTTR Board of Directors please submit your application.
Time Commitment  - Average 2 hours/week 
Current Board members, particularly Officers, are spending an average of 2-5 hours/week on EOTTR projects.  These hours may be on site and/or from home.  These time estimates depend on events and other activities happening at the Ranch. This includes monthly Board meetings (via Zoom and in person) currently on the 2nd Saturday of each month in the mornings.  We welcome you to apply, even if you do not live in Colorado.  We want to expand our reach and those that support our mission from all around the country are asked to serve on our Board.
The primary roles of the Board are to:
Work with the Executive Director to help make key operating and policy decisions
Assist in assuring that financial responsibilities are met
Plan and execute fundraising with the help of staff and other volunteer support
Volunteer at the Ranch to help support our horses and programs
Sponsor a horse at the Ranch and donate when possible
Help promote sponsorship of our horses and promote our Equine Assisted Therapy Programs
Attend monthly board meetings via Zoom and/or by phone call
Benefits of Volunteering on the Board of Directors
Work with horse loving people with a common goal – you will fall in love with our Rescue Horses!
Gain a sense of pride when observing the healing our horses provide to so many
Gain a sense of accomplishment by supporting our horse rescue efforts
Know that you are making a difference in the lives of unwanted, abused and neglected horses
Please complete the Board of Directors Application - if you have any questions please contact info@eottr.org / (970) 901-0502.Thank you.
Make a difference in a Rescue Horses's life TODAY!
Join our Subscription Club!
Did you know you can set up a monthly subscription through our website to help support our 4-Legged Therapists? We have supporters that donate on a monthly basis for Rescue Horse sponsorships, hay donations, farrier work, veterinary expenses, feed and supplies. Help us reach our goal of adding 10 new subscriptions. It's easy to set up and helps support our Rescue Horses monthly. A monthly subscription of
$50, $75, $100, or a custom amount
Designated for:
– Farrier Work
– Veterinary Costs
– Hay/feed fund for our Rescues
– Western Slope Hay Bank to keep horses with their owners
– Sponsor a Horse for $85 a month
– General Donation to help with chiropractic care, supplies & emergencies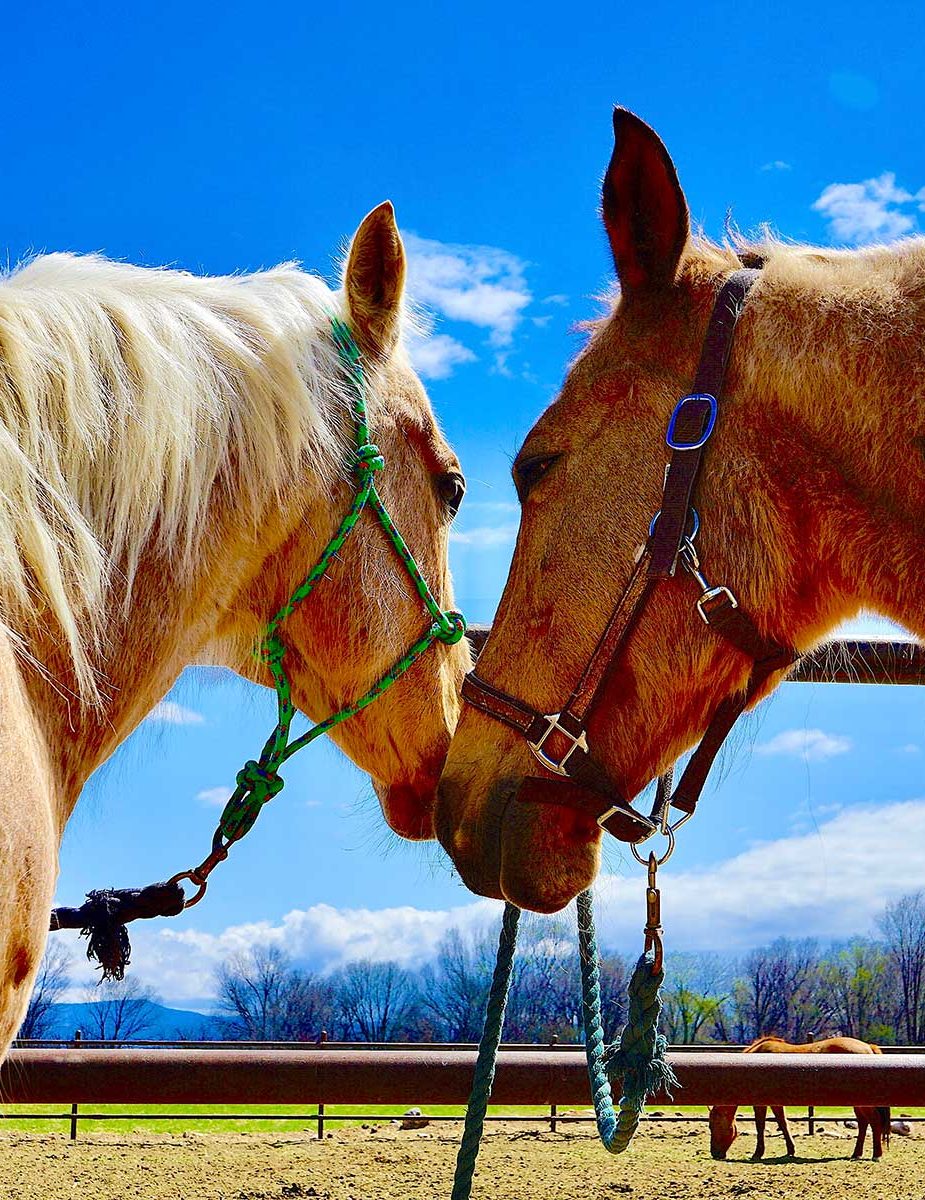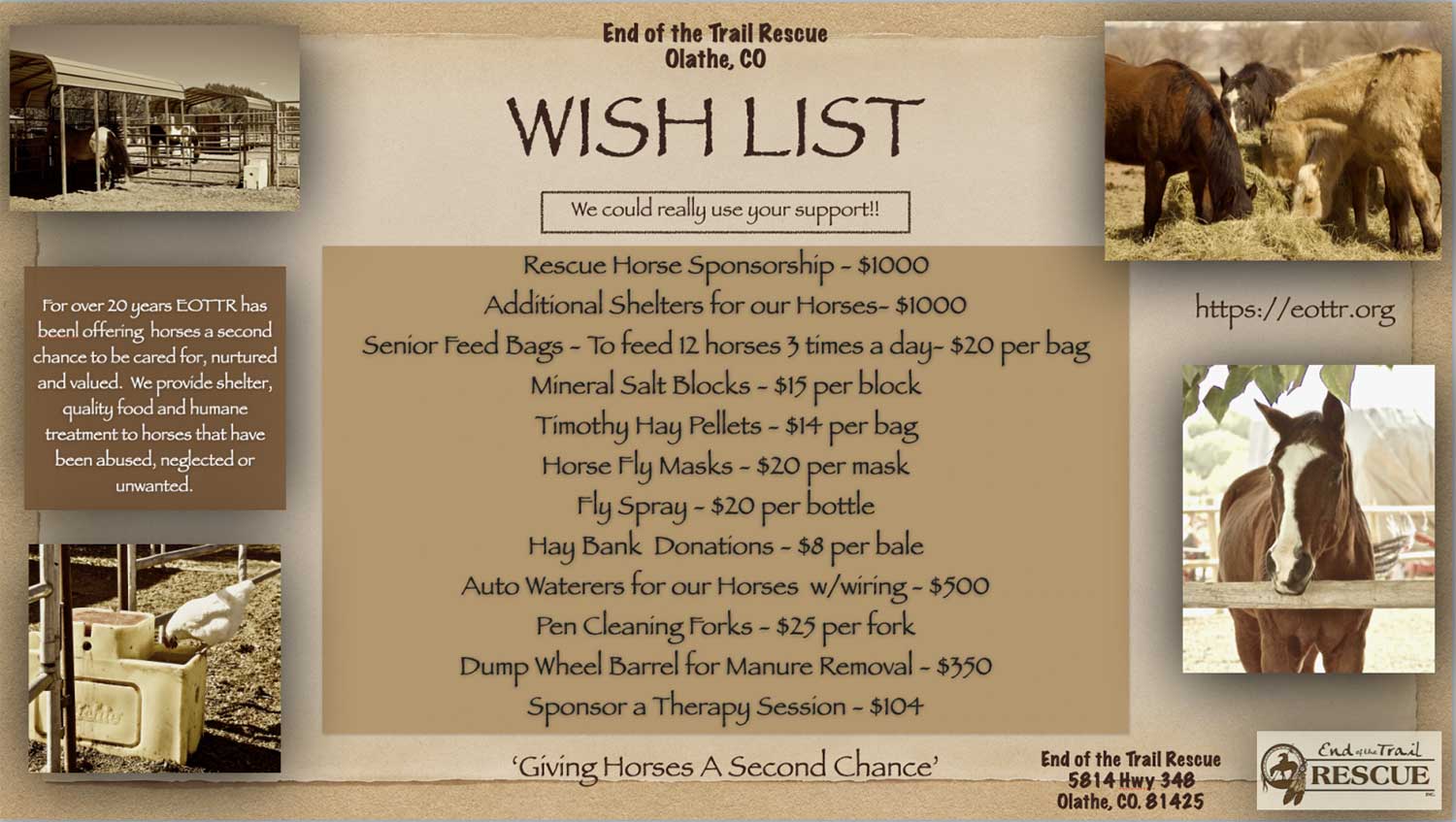 When making a Donation for our Wish List – please designate items you wish your donation to purchase when going to our donation page – Thank you!!
dreams really do come true
We are in the process of expanding our services and capabilities to meet the growing needs in our area. We want to ensure that we provide for horses and human needs for the foreseeable future and with your help, we can build an amazing legacy for horses and people in need.
We are raising funds for our Expansion and Training Facility so we can provide year round services to those in Montrose County and surrounding areas. We will be able to rescue and help more horses, have Equine Mental Health sessions, riding lessons and horse training at our expanded site.
End of the Trail Rescue through
Your contribution to End of the Trail Rescue through Colorado Gives Day will help sustain our important work and increase our ability to provide a safe place for horses and help people find healing. Your donation at any level will make an impact for our Rescue Horses and improve the lives of children, families, Veterans & our Seniors through our Equine Assisted Mental Health Programs.