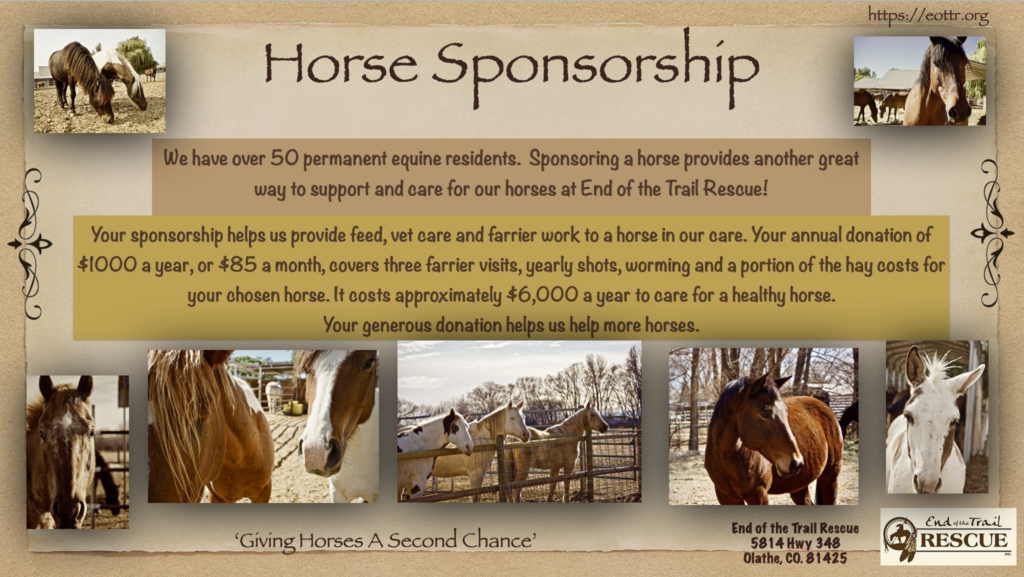 We have over 50 permanent equine residents. Sponsoring a horse provides another great option for the support and help to care for and nurture our horses at End of the Trail Rescue! Your generous donation helps us HELP more horses!
Being a sponsor for one of our horses is a great way to support our mission here at End of the Trail Rescue. It really is a large financial commitment to care for more than 50 horses, in fact it costs around $6000 a year to care for a healthy horse. This is where our horse sponsors become extremely important - we ask for a tax deductible gift of $1000 a year, or $85 a month, to help us put a dent in this expensive undertaking.
Sponsoring one of our unwanted, neglected or abused horses is a great way for you to help our horses here at End of the Trail Rescue. It is a meaningful way for someone that wants to help a horse in need. Perhaps you are not in a position to commit to owning your own horse, but love horses. We are here to offer you that loving interaction with one of our very worthy Rescues.
When you sponsor one of our horses you are helping purchase feed, hay, farrier services and yearly vaccines for your chosen horse. Each of the horses that live in our care have their own stories that led them to live at our Rescue. We encourage you to take the time and read up on our horses here at our website and choose your very own Rescue Horse to support at the Ranch. There are many horses to fall in love with!
For a list of horses needing sponsorship, please click button below.